All pricing includes shipping and handling to your destination.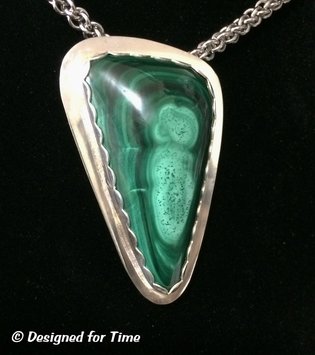 "Green Hills"
This is a beautifully crafted malachite cabochon by
Nyssa Unger
. Sterling back with a fine silver scalloped bezel. I had a terrible time trying to decide which way to have it hang so I have made it with two hidden bails and it can be hung either way. Pendant measures 49.7mm x 31.1mm.
$200
---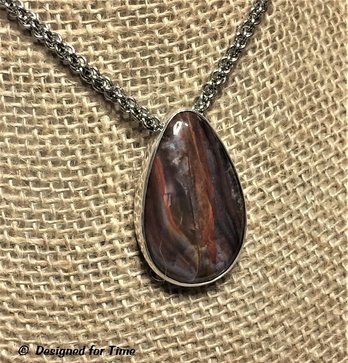 "Serape Fire"
​Stunning serape jasper by
Kerri Pestana
. I have set it in sterling and fine silver. Pendant measures 40.3mm x 25.3mm
$100
---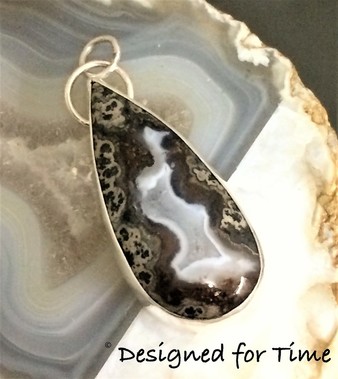 A simply amazing Lexxite cabochon framed in sterling silver. This material is very rare and in short supply. Pendant measures 44mm x 18mm.
$125
---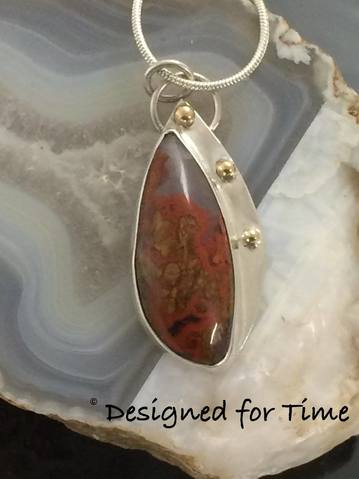 Beautiful red and clear agate mounted in sterling silver. 18K gold balls added as accents to this piece.
$125
---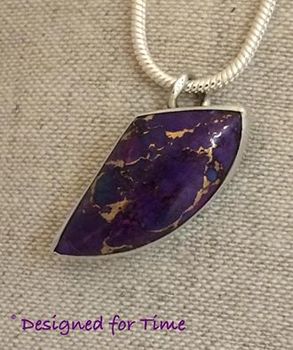 "Purple Passion"
Cabochon is a combination of dyed turquoise and bronze set in sterling silver. Measures 31.6mm x 14.9mm
$80
---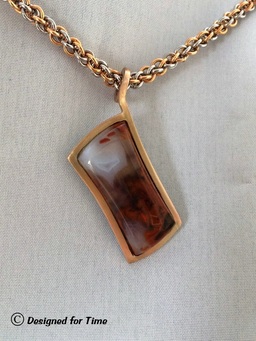 "Walker Ranch Agate"
This Walker Ranch agate pendant has been on display in one of the most prestigious art galleries in Corvallis, Oregon. I have brought it home and am now offering it for sale. Beautifully crafted by Juvy Andres. Sterling back and framed in bronze. Comes complete with bronze and stainless chain.
$200
---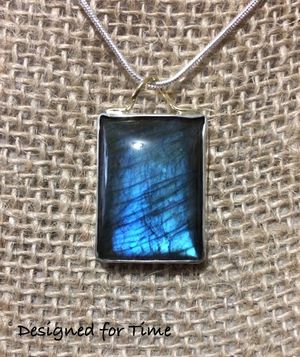 "Spectre's Window"
Absolutely the most stunning piece of Spectrolite that I have ever seen. This cabochon comes from the magic fingers of
Lexx Stones
. I used a step bezel so the back is totally open to show off its gorgeous shine and then added an 18k gold bail. Pendant comes with an 18" gold filled chain and measures 32.46mm x 19.26mm. Free shipping within the USA and overseas pays just cost.
$300
---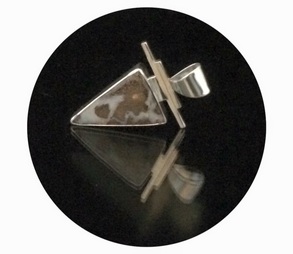 Beautiful boulder opal set in sterling silver. Pendant measures 44mm x 29mm and is truly stunning.
$125
---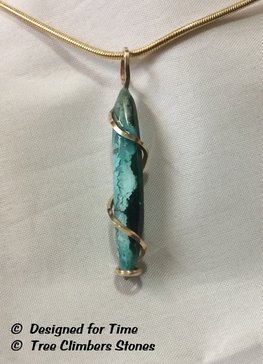 ---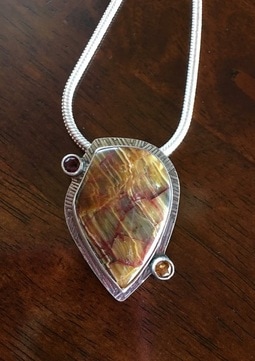 "Turkish Delight"
Absolutely stunning Turkish petrified wood by the amazing
Lexx Stones
and set in sterling silver and embellished with citrine and garnet. Silver work done by the great Peggy Houchin.
Free shipping in the USA and cost only worldwide.
$300
---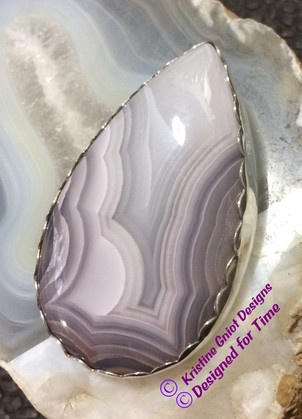 "Purple Canyon"
Arizona Banded Agate by
Kristine Gniot
. The bands in this piece are so vivid and remind me of a SW Canyon scene. Set in fine and sterling silver this piece is truly stunning in every way. Pendant measures 42.8mm x 26.1mm.
Free shipping in the USA and cost only worldwide.
$155
---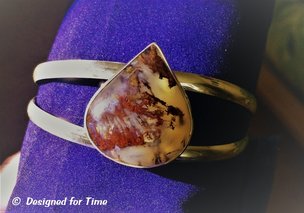 "Mist Dancer"
Flower Bouquet Agate from Woodward Ranch. Cabochon fashion by the fabulous hand of Erin Dana. Set in sterling silver this bracelet is a real stunner. Pendant measures 28.5mm x 24.9mm. Free shipping in the USA and cost only worldwide. $125
---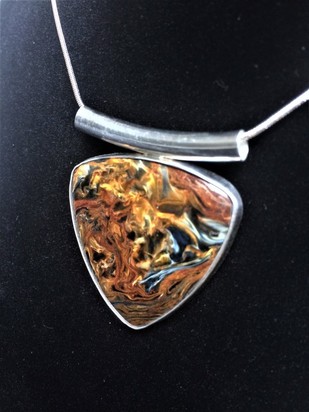 "Tri Fire"
Tri Radius Nambian Fire Pietersite from the hands of
Lexx Stones
. I have set this piece in a sterling silver step bezel so both sides of this phenominal piece is open. Sterling silver tube bezel and hung on a sterling silver chain. Pendant measures 41.5mm x 35.4mm. Free shipping in the USA and cost only worldwide.
$450
---