All pricing includes free shipping, handling, and insurance to destinations within the USA.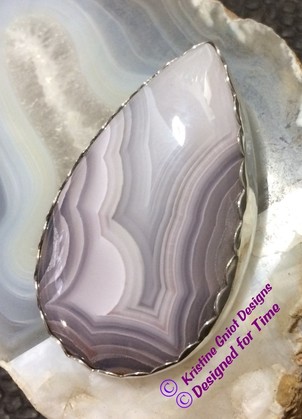 "Purple Canyon"
Arizona Banded Agate by
Kristine Gniot
. The bands in this piece are so vivid and remind me of a SW Canyon scene. Set in fine and sterling silver this piece is truly stunning in every way. Pendant measures 42.8mm x 26.1mm.
Free shipping in the USA and cost only worldwide.
$155
---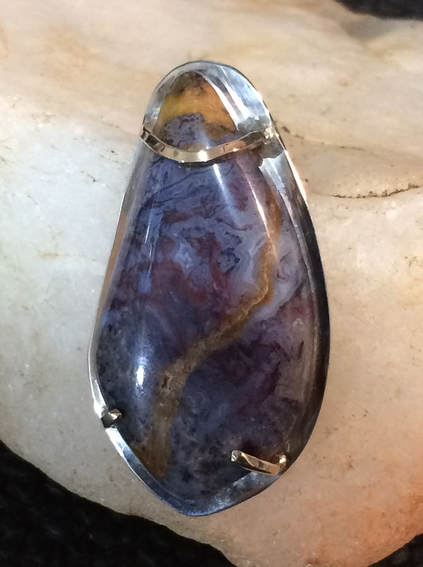 ​"The Golden Marble"
Gorgeous Utah Marble Vein Agate by Jeanie Ganley.
​ 38.7mm x 20.9mm Set on sterling silver with small golden band and posts securing it. The bail is hidden behind and is also golden. $100
---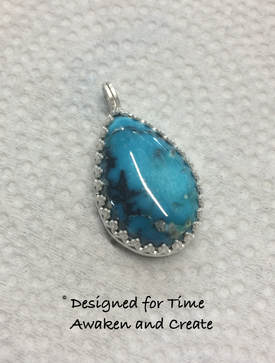 Turquoise Nights
$125

Morenci turquoise from the lapidary hands of Desiree Byrd of Byrd Stoneworks. This is a stunning little pendant and measures 29mm x 16.mm. Comes with its own sterling silver chain.

---
​​"Hot Russian Nights"
$300
This beautiful Russian charoite was created by the phenomenal Lexx Stones. The colors and swirls in this piece really defy words to adequately describe it. This pendant measure 59.4mm x 21.9mm and is set is sterling silver. This pendant comes with a 24" x 2.5mm sterling silver chain.

---
"THE TORCH"
$900

Fiery Red Gold Namibian Pietersite Torch! This piece is set in sterling silver with a gorgeous flame pattern bezel. Simply stunning cabochon from Lexx Stones polished to perfection. A true one of a kind statement piece for that special occasion. Pendant measures 53.9mm x 27.8mm and is open backed.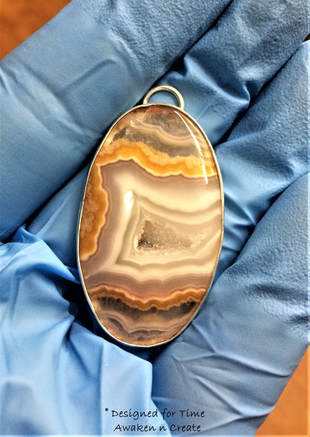 Laguna Sunset
$150
Absolutely stunning Laguna agate. Exquisitely polished by Cyndi Wolke and set in sterling silver. Beautiful crystals run thru the center of this piece to give it some extra sparkle. Open backed Pendant measures 42mm x 25mm and comes complete with a 20" sterling silver chain.
---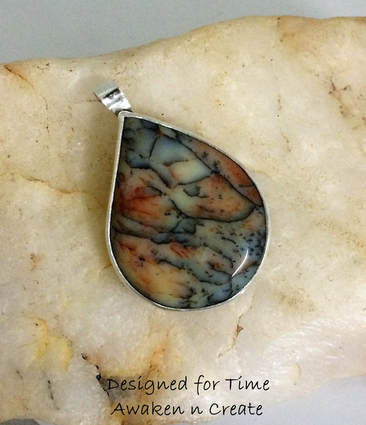 Rain Fire"


$125
Absolutely stunning Australian Dendritic Opal. Exquisitely polished by Erin and set in sterling silver. Pendant measures 39.5mm x 26.2mm and comes complete with a 20" sterling silver chain.
---